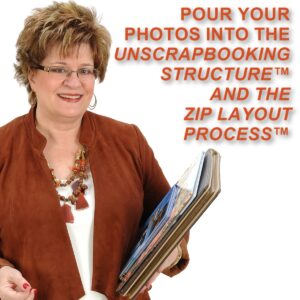 THE MESS to MAGIC PHOTO RESCUE™:
Powered by the UNscrapbooking Structure and Zip Layout process™
The UNscrapbooking Process in Action
"Your UNscrapbooking process has me setting my photos free and has given me a tool to make my love more visible."
"I followed the Zip Layout process exactly and completed a book with stories in 3 days."
Barb Orozco is known as THE SCRAPBOOKING DISRUPTOR, helping parents STOP hiding their photos in their phones and START using her processes, systems and philosophy to get them into albums, so they can be used as the heart-based secret weapon that they are to let their friends, family and especially their kids have tangible proof that they are seen, they are heard and WHO they are matters.  
Since 2002, she has been pulling back the curtain on the scrapbooking industry and the lies which have disempowered us and created systems, strategies and processes to put us back in touch with and in charge of our photos and stories… fully empowered!! 

 She is a wife of 42+ years, mom to 3 adult kids and grandmom to 9! She has personally experienced the impact albums filled with storied photos can be and lives to help her clients experience the same joy.